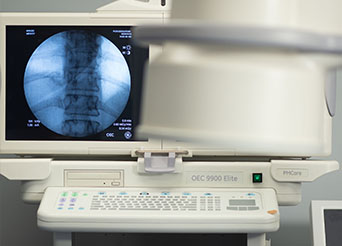 Paradigm Pain & Spine is Northern Kentucky's leading medical center for comprehensive spine care and pain management treatment. We help patients figure out why they are experiencing pain, and we offer the latest non-surgical and minimally invasive procedures to help treat it. We also provide educational resources so that patients can make the right lifestyle choices to prevent pain from happening again.
There are many treatment options available to alleviate pain and address the factors causing it, though not every procedure is right for each patient. That is why we take a personalized approach to medicine, tailoring the treatment to the individual. Our procedures are clinically proven to produce real results for pain sufferers and to improve patients' quality of life.
We use the latest technologies in spine and pain care and are constantly learning about new and innovative procedures and treatments.
The Right Spine & Pain Treatment
To learn more about the procedures available for your condition click on one of the buttons above. Paradigm Pain & spine offers more cutting-edge treatment options than any other pain management clinic in Northern Kentucky. We care about our patients and are committed to helping them get rid of pain and live pain-free.
Treatment Options for Pain
Your treatment plan will vary based on your condition. Some factors that may determine how we go about treating or managing your pain include where your pain is located, what is causing it, and how long your symptoms have been present. We also take your personal medical history into account when developing a treatment plan, as not all patients will react similarly to a specific treatment. Learn more about the types of pain we treat and the treatments we offer.
CALL 859-282-2024 TODAY TO MAKE AN APPOINTMENT WITH ONE OF OUR HARVARD OR CLEVELAND CLINIC-TRAINED PHYSICIANS.